UNIJE is an island only 17 square kilometers, with many bays and beaches, ideal for yachting, bathing, diving and fishing activites. Low hills are till the shoreline mostly covered with Mediterranean evergreen macchia woods and olive trees. The only settlement of the same name , a typical fishing village adjoining a beach of almost 800m long, having 280 houses, populates now less than 85 residents (more than 400 during Summer season). There are no cars on island. The harbor and Maracol bay, swarm with yachts and fishing boats. Private room can accommodate about 50 guest on average to low prices. Two restaurants, shops, post office and tourist agency serve the residents, guests and visitors. Unije is an excellent destination for day or week of full relaxes vacation time in swimming, sunbathing and good fresh fish & red wine in Don Jozo's "Taverna", right on the beach.



About 200 meter away from the beach and village, located on a flat plateau is



Airfield UNIJE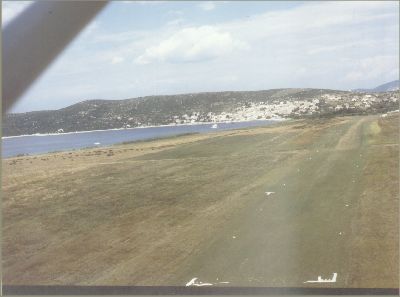 Designed, built and opened an April 14.1996. by North Adria Aviation



Airfield is located on a straight course heading 120º beatween Pula (30Km) and Losinj (8Km) airports. Flying at 100 knots it takes to Vrsar and Rijeka airport 35 minutes, and from Losinj airport 7 minutes.
The runaway is a grass strip 850 x 45m, on direction of 05/23, parking area near THR 23,10 tie down positions. Frequency operating 123.50 MHz.
The cheapest way of reaching the airfield is to first come to one of the international airports Vrsar (LDPV) or Rijeka (LDRI), with 50% discount on airport fees for tehnical landing, and make boundary entering formalitiy. From Vrsar you have to fly to Pula airport NDB's or VOR (111.25 MHz), and than on Heading 130º to Unije.
From Rijeka fly to NDB "CRE" (433 KHz), and than on heading 225º to Unije.
In North Adria offices on Vrsar and Rijeka airports you can get basic information's and routes to Unije airfield.
From Unije you can send a FPL or get a meteorological data on Pula MET phone/fax. number 052 214 618, or any information needed on Pula ATC Flight Information Office, phone number 052 212 515.