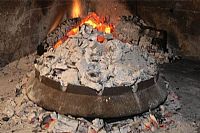 Versatile Istrian cuisine can be enjoyed in rural tourist households, in taverns and Ostarias, depending on your preference for seaside or inland atmosphere.
Advantages of the tavern along the Adriatic coast are specialties such as bread and Red Scorpion Fish below "cripnja"( cast iron baking lid), mussels, Great Mediterranean Scallops, oysters dipped in the fragrant stew, unavoidable shrimps, crabs, a bit more simple pilchards and anchovies in marinade. Spice it up with wine Malvasia, Merlot or teran and music, you are on the right way to get to know and fall in love with the coastal part of Istria.
If you find yourself in one of central Istrian Ostarias, there is offered just as mouth watering menu: "healing" biska as an aperitif, then gnocchi and fuzi , the game, Istrian sausages with kapuz (cabbage), bread under cripnja, chickpea soup, iota, ombolo, sheep's milk cheese, ham and frite to many ways. Visit to Ostaria would not be complete without the Istrian supa (soup). The story says that just a giant Big Joza knew how to cope with it. For supa is necessary to have a "Bukaleta (Istrian pitcher), heated red wine Teran or Merlot, pinch of pepper, homemade olive oil and roasted pieces of bread.
To cup it all there are delicious cakes, dry figs and many more local unpronounceable sweets.
Truffles are the pinnacle of good taste, believed to be aphrodisiac just like another Istrian specialty, wild asparagus.
Magic and aphrodisiacs intertwined a long time ago in Istria.