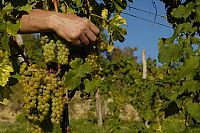 Specificity of soil completes the quality of wine - the red soil by the Adriatic Sea and the white soil of inner Istria. Istrian Malvasia is the most popular and greatest wine of Istria in the last hundred years. Its quality was confirmed in 1998 when Malvasia grape was declared the best autochthonous grape variety and one year later, the best white wine in Croatia.
Depending on the process of technological refinements, care and old age, color varies from straw like yellow to golden yellow.
Malvasia's counterbalance is Teran. This Istrian red wine and his subgroup Refosk are considered the old and authentic wines of Istria. Red wines are called - black, primarily for teran's intensely dark ruby color. The fruit flavor is vivid and the taste is very distinct.
Connoisseurs put Istrian Muscat at the first place, or rather - Momjan Muscat, for the sake of his gold color, intense flavor and exquisite aroma. Muscat, dry and sweet, invokes aphrodisiac qualities.
For those who love enoturism Istria has the form of a grape intertwined by six wine roads through areas around Porec, Buje, Buzet, Rovinj, Vodnjan and Pazin with nearly 70 wine cellars.
We've started our virtual travel with biska, Istrian magic brandy and there isn't a better way to make a full circle then there is with magical Istrian wines. Cheers!