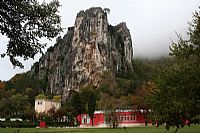 Between Buzet and meadow below the steep rocks is situated the Istrian thermal resort – Istrian Spa. Ancient Romans used it to cure their illnesses in therapeutic water (circa 36 degrees Celsius), rich in sulfur, thermal baths and mud. Nowadays it has the same purpose for treating rheumatic problems and endocrine system.
In Istria, the land of legends, giants, witches, vampires, pirates and hidden treasures Istrian Spa has its own legend too.
It says that once upon a time was a girl wrongly accused. In order to prove her innocence, girl went up to the top of steep rocks. Before throwing herself down, she made a wish: if she wasn't guilty, at the spot where she'll fall the healing water will spring henceforth.