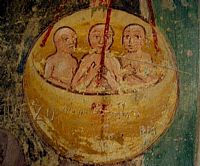 Medieval illiteracy didn't allow people to read books, but there was a very effective way to keep faith and spread stories by wall-paintings.
Walls of churches were decorated with colorful scenes attracting the attention and giving a clear message to the illiterate believers.
Fresco-style masters, as well as the motives, differ from church to church and from master to master. It has been discovered approximately one hundred and fifty locations with frescoes across Istria.
Church walls as a "medium" began to be used somewhere in the 9 century while its culmination fresco painting came a couple centuries later.
Well known masters are Vincent from Kastav, master Anthony de Padua (Kascerge), Albert from Konstanz, Cleriginus from Koper (three Kopar's painters from the same family).
The most famous frescoes are Dance of Death, Wheel of Luck, Living Cross ...
Areas with frescoes are Beram, Barban, Oprtalj, Pazin, Lindar, Rakotule, Hum, Draguc, Dvigrad, Zminj, Porec, Fazana.
Vincent famous frescoes from Kastav "Dance of Death" from the church of St. Mary of Skrilina in Beram (copy is placed in the church of St. German on Brijuni) shows the following scenes: "Dancing Dead" beginning with piper skeleton who leads into the tomb following caracters: 1st Pope, 2nd Cardinal, 3rd Bishop, 4th King, 5th Queen, 6th the publician, 7th the child, 8th the crippled beggar , 9th soldier, and 10th The Merchant.
Between each of these characters is a skeleton. Column ends with an "anecdote" with merchant who tried to bribe death by gold coins. But death is immune to bribe.