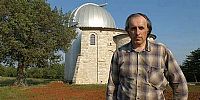 During the past ten years,
Observatory Visnjan
, close to Porec, has become one of the world's most prolific discovery sites for the small bodies in the Solar System, together with its founder and Head of the Observatory, famous astronomer
Korado Korlevic
. More than 1400 minor planets have been discovered with 40 cm telescope. The observatory is home of several summer programs for youth in astronomy, archeology, marine biology and other disciplines: Youth Science Camp, Summer School of Science and Visnjan School of Astronomy. The observatory is recently moved 3 km away in Tican which has a 1 m telescope.