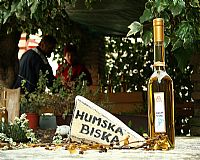 Biska, an authentic Istrian brandy, is made from grape brandy called komovica, mistletoe and several types of herbs. Name "biska" originated from the Latin name for mistletoe (Viscum album).
Biska may be in sweet variations, and in combination with "medica" (also indigenous Istrian honey brandy) is called "medimela".
The "mysterious" part of the story about biska is its use in the Celts' druid magic because they dwelt in this area about 2,000 years ago.
Recipe for biska in Istria, written in Glagolitic alphabet has been recently found, and the most famous is biska from Hum, the smallest town in the world (the secret recipe has left by their pastor and herbalist Joseph Vidou), and biska from village Vrh, but it is made throughout Istria. It is an indigenous aperitif and digestive, but for this purpose only - an excellent entry, or entree - to the Istria deliciosa.