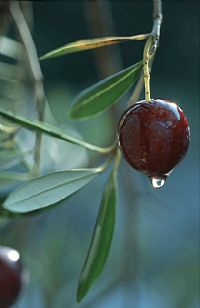 Marcus Valerius Martial, epigrammatist, wrote the best compliment to Istrian oil. Gratifying his hometown Cordoba he exclaimed "Cordova (...) perfect as the oil from Istria." The remains of ancient oil mills are located along the western shoreline, especially on Brijuni, in Barbariga, Porec, Cervar, where are large olive plantations of indigenous Istrian varieties of bjelitsa, karbonera, buza.
About ninety olive oil producers have been involved in the project Olive oil Roads of Istria whose purpose is marketing the oil world wide. FAO experts have declared that the finest olive oil in Europe from Larun olive groves below Tar.
First three places by the ratings of special jury of Croatian extra virgin olive oil Championship have been won by Extra Virgin Oils from Vodnjan's region: Adriana Gorlato and Slobodan Car won the first, Frank Vranic second, and Duilio and Bosiljka Belic the third place. Ekstra Virgin Oil made from olives buze of Duilija and Bosiljka Belic, Oleum viride, is among 15 best olive oils in the world by the world's Guide of Extra Virgin oils - L'extravergine for 2009. Oil came from olive groves in the area Galizana, Fazana and Peroj.