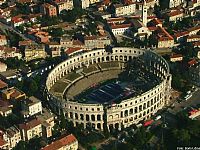 The Arena is the only remaining Roman amphitheater to have four side towers and with all three Roman architectural orders entirely preserved. It is the sixth largest surviving Roman arena and a rare example, among the 200 Roman surviving amphitheatres, of unique technological solutions. It is also the best preserved ancient monument in Croatia.
The amphitheatre was first built in timber during the reign of Augustus (2-14 AD). It was replaced by a small stone amphitheatre during the reign of Emperor Claudius. In 79 AD it was enlarged to accommodate gladiator fights by Vespasian and to be completed in 81 AD under Emperor Titus. This was confirmed by the discovery of a Vespasian coin in the malting.
It consists of three main parts: the area for the spectators, the arena, and the underground space. The spectators could enter trough many entrances allocated around the whole amphitheatre. The length of the major axes is 130 m and the shorter axis is 100 m long.
The amphitheatre was built from the local limestone, dug from the nearby rock-quarry at Vinkuran.
St. Germanus was martyred here in the year 284. The amphitheatre remained in use until the 5th century, when Emperor Honorius prohibited gladiatorial combats. It was not until 681 that combat between convicts, particularly those sentenced to death, and wild animals were forbidden.
In the 5th century the amphitheatre began to see its stone plundered by the local populace. By the 13th century, the patriarch of Aquileia forbade further removal from the Arena.
In the Middle Ages the interior of the Arena was used for grazing, tournaments by the Knights of Malta and fairs. In 1583 the Venetian Senate proposed dismantling the Arena and rebuilding it within Venice. The proposals did not come to fruition and today, a headstone celebrating the Venetian senator Gabriele Emo opposition to the plan is currently visible on the second tower. The last time the Arena was used as a source of stone was in 1709 for the foundations of the belfry of the city's Cathedral.
General Marmont, the French governor of the Illyrian Provinces started the restoration of the arena. This was continued in 1816 by the Ticinese architect Pietro Nobile, commissioned by the emperor Francis I of Austria.
Being one of the best preserved amphitheatres in the world, Arena of Pula has often been the subject of study by many famous artists and in particular architects, as were the renowned Sebastiano Serlio and Andrea Palladio.
Today amphitheater is being visited by numerous tourists from all over the world. It is the place where opera, ballet, concerts and pop-concerts of the world's most famous pop-singers, as well as the traditional film festival are held during the summer time.
Arena guests were Anastacia, Andrea Bocelli, Buena Vista Social Club, Eros Ramazzotti, Israel Philharmonic Orchestra & Zubin Mehta, Jamiroquai, Jose Carreras, Luciano Pavarotti, New Imperial Russian Ballet, Norah Jones, Paco de Lucia, Placido Domingo, Veryovka, Zucchero…