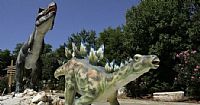 The first Croatian Jurassic Park opened in Funtana, a small place near Vrsar in Istria. The park features eight dinosaurs that are 16 to 24 meters long and three smaller ones, all move and sound like the real ones.
The park also offers an exhibition hall with two dinosaur skeletons and a small dinosaur for children to ride on as well as a playground and numerous paths for visitors to wander around.
This is the 2nd dinosaur park in Europe.
Open daily from 9:00 to 23:00. Magician show at 12:00, Disco for children from 20:00 to 21:00. Tickets 80 kn for adults, 50 for children. Family tickets available.