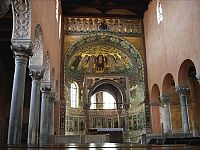 Euphrasian Basilica (Euphrasiana) in Porec is the most beautiful monument of early Byzantine art in the Mediterranean. It was built in 6th century, at the time of the bishop Euphrasy and the Emperor Justinian I. In 1997 UNESCO has included Porec's Basilica it in the world's cultural heritage.
The system of Euphrasian basilica makes Euphrasios basilica, parish church, sacristy and the cela trikora, baptismal font and bell tower, Maurus Oratory, as well as the nearby Bishop's Palace, for which the latest research found that belongs to the Byzantine period like the basilica. In it is a monumental collection of Porec-Pula diocese. With the presentation of archaeological remains, particularly mosaics dating to the 3rd century, in the complex are valuable religious monuments and Christian, Byzantine and early medieval period artistic objects.
The construction began in the 553 on the foundations of earlier three-nave basilica. It has experienced a series of changes, on the original building from the Early Christian period is the third, Gothic church. Although the earthquakes, wars and fires damaged the building, the authentic floor mosaics from the 5th century have been preserved and represent an example of the Early Christian painting. Depicting of Christ and martyrs as well as the composition of the Virgin Mary on the throne impress with its precision work. The oldest mosaic fragments are dating from the 3rd century.
Mosaics in the apse
Glittering mosaics on the interior and the front of the Church, are the most beautiful preserved works of Byzantine art. Mosaics above apses represent the apostles and Jesus, then Bishop of Euphrasius with a scale model of the basilica in the central part, guardian angels, the Virgin Mary with Jesus in the womb, local saints martyrs, especially Saint Mauro - the first bishop, the martyr and patron saint of the city and the entire Istrian diocese. With the very edges of the arch are the U-turn "medallions" with figures of martyrs. Two main mosaics represent the Annunciation and Visitation. Three-aisled cathedral carry two rows of marble columns with elaborate capitals.
Tourist tour is possible every day, except during religious rituals. It is possible to climb the tower with a view of Porec and its surroundings.